The US dollar index (DXY) made a bearish breakout after the US published strong jobs numbers. It pulled back to a low of $104.72, which was much lower than this week's high of $105.90. This decline coincided with a major crypto sell-off in cryptocurrencies, with Bitcoin price plunging below $20,000 and Aptos being below $11. Ethereum price dropped to a low of $1,370.
US jobs numbers
The American economy is still firing on all cylinders, signaling that the Federal Reserve has more work to do to fight inflation. Data published by the Bureau of Labor Statistics (BLS) showed that the country added more than 314k jobs in February, higher than what analysts were expecting. But the reading was loweer than the red-ho 517k that the economy added in January.
The DXY possibly declined after the other sub-sections of the jobs report. For example, the unemployment rate jumped from 3.4% to 3.6%. This figure is still close to the lowest level since 1950s. At the same time, the average hourly earnings print dropped from 0.3% to 0.2% on a MoM basis. Wages still rose from 4.4% to 4.6% on a year-on-year basis.
These numbers show that the labor market is still so hot, which will make the Fed's work of fighting inflation tougher. As I wrote in this article on Thursday, the next key data to watch will be the upcoming American inflation numbers scheduled on Tuesday.
My crystal ball predicts that the headline consumer price index (CPI) rose from 6.4% to 6.5% in February. The median estimate of inflation by analysts polled by Reuters is that inflation moved to 6.0%. Either way, inflation remains uncomfortably high for the Fed.
Why the US dollar index is plunging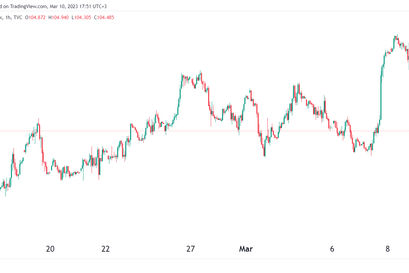 A likely reason why the US dollar index has pulled back is that some analysts believe that the Fed will actually not be extremely hawkish. They cite the new challenges in the banking sector, where several regional banks have come under pressure.
Earlier this week, Silvergate Capital, a company that banks for crypto companies said that it will liquidate. And in the past two days, SVB stock price has plunged hard as investors remain concerned about its stability. There is a lingering fear that the bank will go bankrupt after a major bank run. The stock fell by 60% on Thursday. It was halted on Friday after it plunged by another 60% on Friday.
Ethereum price prediction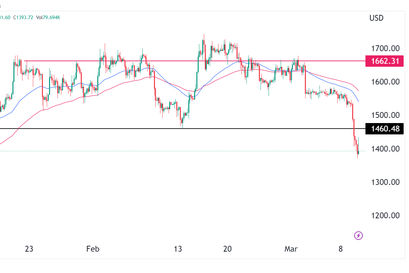 So, what does all this mean for Ethereum price? On the four-hour chart, we see that ETH price continued plunging amid rising concerns about the crypto and tech industry. It nonetheless formed a long upper wick as the US dollar index plunged. As it did this, it retested the key level at $1,436.
Read more: How to buy Ethereum.
ETH remains significantly below all moving averages while oscillators have continued plunging. Therefore, we could see a dead cat bounce during the weekend as investors attempt to buy the dip. All gains before the US CPI data will likely be good opportunities to short again. In all, ETH price will likely continue falling as sellers target the key support at $1,000.