Many had speculated that the rally in the crypto market was going to wane following the Spot Bitcoin ETF rumors fading out. That hasn't been the case, though, and a recent revelation from a prominent crypto analyst suggests that the two largest cryptocurrencies by market cap, Bitcoin and Ethereum, could continue to see an upward trend. 
New Liquidity Coming Into The Market Could Boost Bitcoin, Ethereum
In a post shared on his X (formerly Twitter) platform, Crypto analyst Ali Martinez revealed that the crypto market has seen close to $10.97 billion in positive capital inflows, which represents the highest level this year. According to him, this inflow of capital into crypto could potentially mean that investors are heavily bullish on these assets.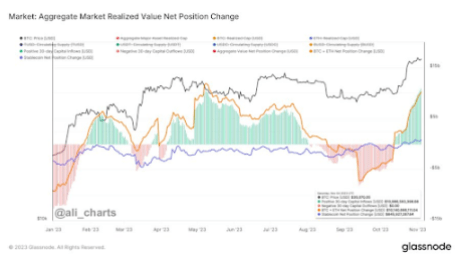 Source: X
Meanwhile, there is also further evidence that the market, most especially Bitcoin, could see an influx of new money in the coming days, as Martinez mentioned in a subsequent post that over 700,000 new BTC addresses were created on November 4. The analyst believes that such a happening is an important milestone as Bitcoin's network growth is one of the best price predictors.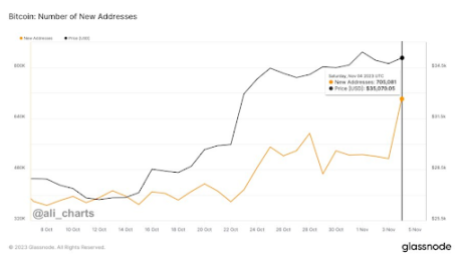 Source: X 
It is uncertain what could be behind these inflows and the revived interest in the crypto market. However, some believe that it could be institutional investors who are taking positions ahead of a possible approval of the pending Spot Bitcoin ETF applications by the Securities and Exchange Commission. 
Others believe that the Bitcoin Halving could be contributing to the resurgence in Bitcoin's price and the crypto market by extension. Historically, Bitcoin has seen significant gains in the period leading up to the Halving event. The next Halving is expected to happen in April 2024. 
Whatever the reason, there is no doubt the influx of new money into the ecosystem is a positive development. A particular crypto analyst had once noted that many altcoins were tepid due to the lack of liquidity in the market and that they could pick up once there is renewed interest in the market.
Institutional Interest Coming From Overseas
According to a Bloomberg report, Hong Kong's financial regulator, the Securities and Financial Commission (SFC), is considering allowing the launch of exchange-traded funds (ETFs) that allow investors to invest directly in the cryptocurrency itself (Spot trading). 
This development comes amid the US SEC's reluctance to approve the pending Spot Bitcoin ETF applications, which would allow US investors to have direct exposure to the flagship cryptocurrency, Bitcoin. 
This further highlights the stark contrast between the treatment that the crypto industry has received overseas and in the United States. The positive approach taken by regulators overseas is, however, commendable as the crypto industry continues to see interest from such regions. 
BTC bulls try to reclaim $35,000 | Source: BTCUSD on Tradingview.com
Featured image from iStock, chart from Tradingview.com