Move over Bitcoin ETF, it is time for Ethereum to take the center stage.
$9 trillion asset manager BlackRock has revealed its intention to to launch a spot Ethereum ETF, and it already sent the price per ETH above $2,000.
Ethereum ETF News From BlackRock Prompts Break Above $2,000
Ethereum sentiment has recently been in the gutter, but breaking news today has instantly revived the top altcoin and caused its price to surge higher.
That news was none other than BlackRock announcing its intention to file for a spot ETH Exchange-Traded Fund (ETF). BlackRock's Bitcoin ETF application has been driving increased interest and speculation in BTC.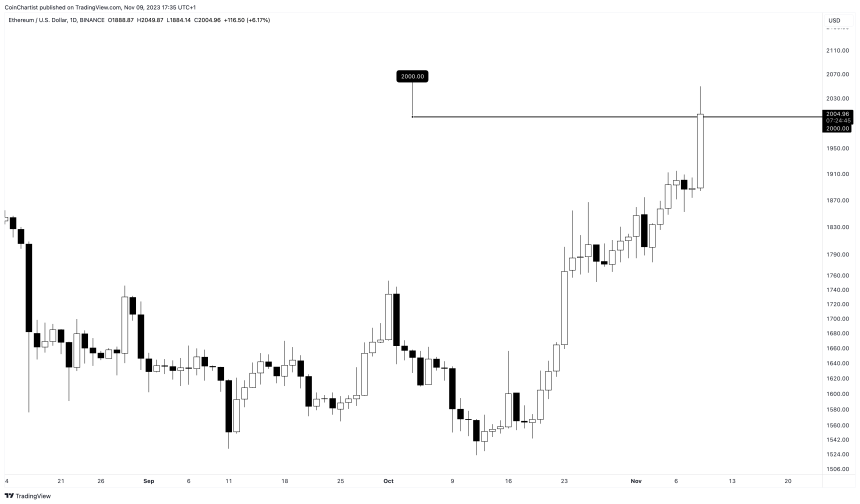 Ether breaks above $2,000 | ETHUSD on TradingView.com
Bitcoin's price has climbed over 100% in 2023, but Ether has since lagged behind. All that could be changing now that ETHUSD broke above $2,000 and is now closing in on breaking up out of an ascending triangle pattern.
ETH Breakout Could Change Momentum Long-Term
If the bullish news backdrop and possible ascending triangle pattern weren't enough positive signs for Ethereum, the top altcoin by market cap has also crossed bullish on the monthly LMACD.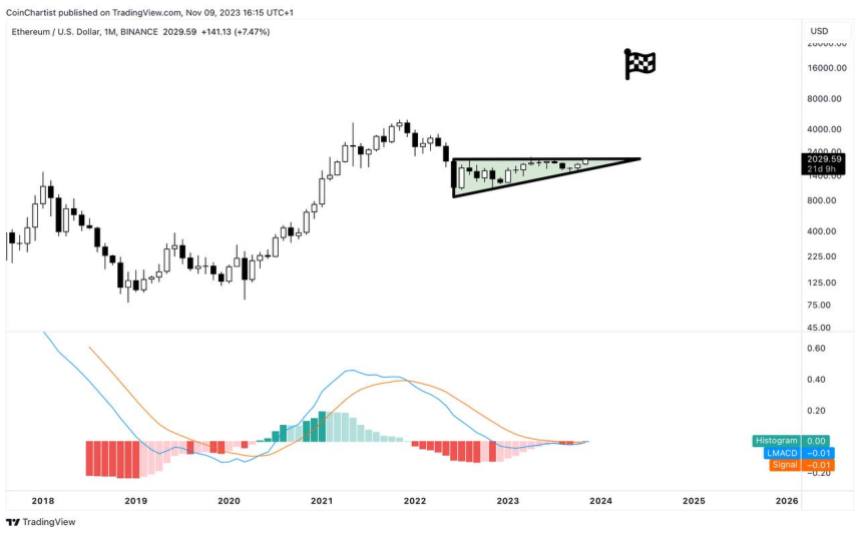 Ether could target $10,000 next| ETHUSD on TradingView.com
The LMACD is the logarithmic version of the Moving Average Convergence Divergence indicator, used to measure market momentum. With this significant momentum shift possibly brewing, the price per ETH could shoot much higher.
Immediately short-term targets of the ascending triangle could see Ether revisiting all-time highs soon enough. However, longer-term targets are closer to $10,000 per coin.
While this might have seemed out of reach in the past, the capital inflows a spot ETH ETF could bring into the market would range from billions to potentially trillions over time.